Walk the 6 West: HISTORY ON THE HUMBER

---
Latest Update - 15 August 2017
THANK YOU to everyone who came to see our event! Attendance exceeded our wildest imaginations when this event was conceived in a grant application almost a year ago.
Of course, we also thank our performers for a first-class show, and all the volunteers from the six historical societies that made the event possible.
We would greatly appreciate your feedback on the event. While our on-line, post-event survey is now closed, you can certainly still e-mail us or call (647) 675-1792 with any comments you wish to pass along.
Follow us on Twitter @historyonhumber
---
The Event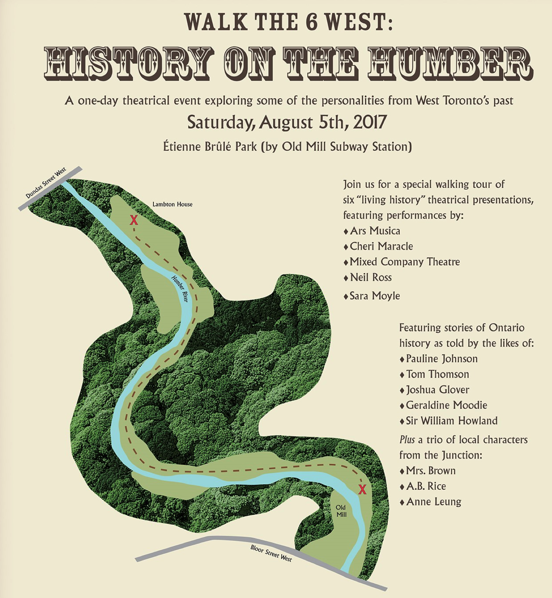 On Saturday, August 5, step into Canadian history along the banks of the Humber River.
Heritage York, in collaboration with partner organizations Swansea Historical Society, West Toronto Junction Historical Society, Etobicoke Historical Society, York Pioneer and Historical Society, Sunnyside Historical Society, and MomenTO, with financial support provided by the Government of Ontario through its Ontario 150 Community Celebration Grant, is pleased to present "Walk the 6 West: HISTORY ON THE HUMBER."
This FREE and unique outdoor theatrical experience will take place in Toronto's Étienne Brûlé Park. Walk the paths along the historic Humber River as you encounter many extraordinary Ontarians from our diverse past, hearing them recount and relive their personal stories--and the impact their lives had on the province and country that we all share today.
Performances include:
Freedom seeker Joshua Glover
Guided tours will be leaving from BOTH the Lambton House (4066 Old Dundas Street) and Old Mill Subway station at 12 p.m. and again at 2:30 p.m.
---
Frequently Asked Questions
What are my transportation/parking options for getting to and from the event?
By car: While there is free public parking available at Etienne Brule park, located at the southern Catherine street entrance, parking space is limited and cannot be reserved or guaranteed. Because of the large pre-registration for this event, we strongly recommend not driving.
By TTC: The 55 Warren Park bus leaves from Jane station approximately every 30 minutes, with planned stops at the Lambton House. The 55 is an accessible route for those using assistive mobile devices; Jane Station is also an accessible station. By the south end of the park, travellers can also arrive via Old Mill Subway station (please note: Old Mill station is not an accessible station).
Where does the tour end?
Tours do not end where they began. If your tour begins at Old Mill subway station, it will end near the Lambton House. If it begins at the Lambton House, it will end near the Old Mill subway station. So, those taking transit will end up utilizing the 55 Warren Park bus in one direction or the other.
What can I bring into the event?
Visitors may bring with them water (reusable containers may be refilled in the water fountain that is available in the south end of the park, by the public washrooms), sunscreen, or an umbrella (if needed).
How can I contact the organizer with any questions?
Please contact us by telephone at (647) 675-1792, or email your inquiry to historyonthehumber@gmail.com.
Do I have to bring my printed ticket to the event?
No, we will have your registration information on hand.
Can I update my registration information?
Yes -- if you have any difficulties, please contact us directly and we will assist however we can.
Is it ok if the name on my ticket or registration doesn't match the person who attends?
Yes.
---
Funding provided by:


The Ontario 150 Community Grants Program of the Province of Ontario
Promotional Partner:

MomenTO and the city of Toronto
Community Partners:

Heritage York

The West Toronto Junction Historical Society

The Swansea Historical Society

The Etobicoke Historical Society

The York Pioneer and Historical Society

The Sunnyside Historical Society
---
Follow us on Twitter @historyonhumber
---
For maintenance concerns about this page, contact webmaster@enati.com
(C) 2017 Heritage York - Last Updated: 15 August 2017